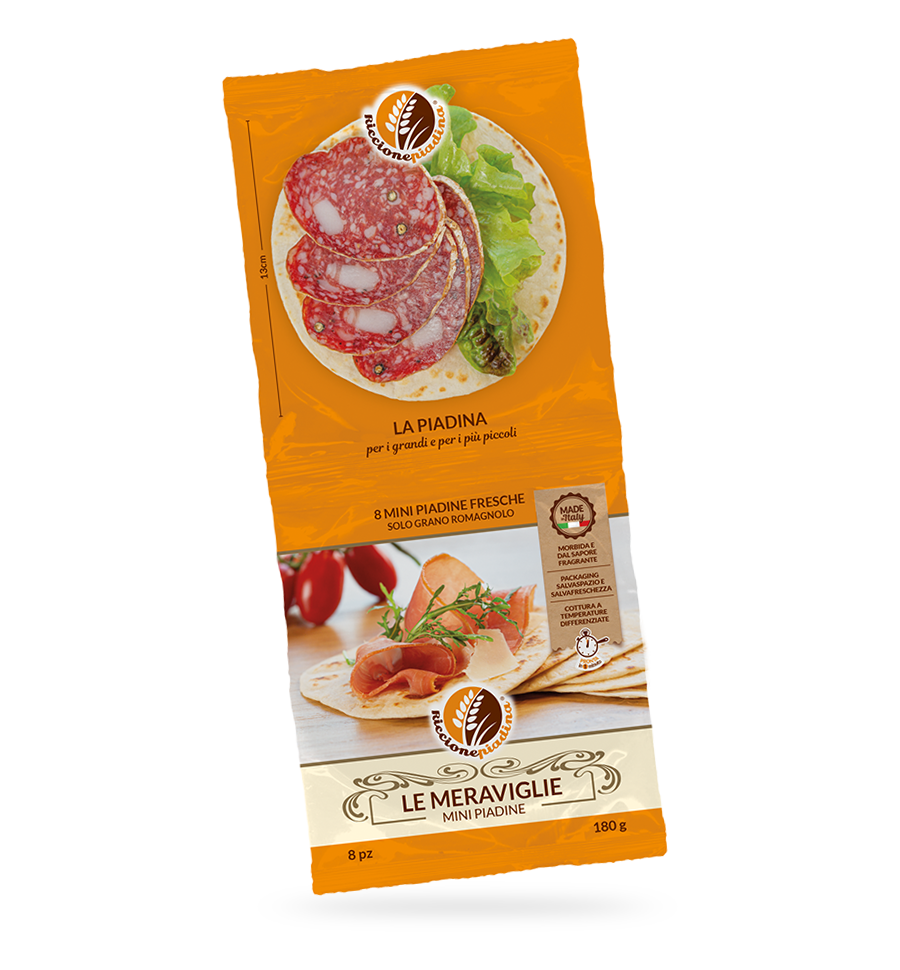 Le Meraviglie of Riccione Piadina
The same recipe for piadina romagnola IGP alla riminese, but in a baby version.
A tasty shape for creating new dishes while having fun.
Perfect for your kids' snack, to be stuffed any way they like!
The formula for its success:
Certified Romanian Wheat
Ingredients 100% of Italian origin
Original size (12 cm diameter x 8 mini piadinas per package)
Space-saving and freshness-saving (2 single portions of 4 mini piadinas each)
Respect for natural processing times
Unique temperature-differentiated cooking system
We carefully select every single raw material
In this piadina you find only Italian, controlled and quality ingredients.
Ingredients
Wheat flour type 00, water, lard, salt, raising agents (disodium diphosphate, sodium hydrogen carbonate), wheat starch.
Contains: Gluten. Allergens: may contain soy and mustard
Storage: Store refrigerated at +2°C to +6°C and consume within a short time after opening. To be consumed by the date indicated on the package. It can be frozen.
Nutritional values
Energy: 1389 kJ/331 kcal
Fats: 12 g
Of which saturated fatty acids: 5.3 g
Carbohydrates: 47 g
of which sugars: 1.1 g
Fiber: 1.4 g
Protein: 7.2 g
Salt: 1.3 g
Format
Buy Now
Le Meraviglie of the Adriatic
The piadina with sardines and fresh onion
Clean the sardines and rinse them well under running water, put them for a day in the refrigerator covered with the marinade made of vinegar, sugar and white wine.
After leaving them to drain for a day, store them with a little olive oil. Add finely chopped spring onion.
Cook Riccione Piadina Wonders on our Romagnolo Testo Romagnolo piping hot.
Serve with fresh radicchio or misticanza, drops of traditional balsamic vinegar of Modena or a raspberry vinegar.
Discover the recipes
Wonders are fun, original and delicious! They are perfect for your children's snacks, birthday celebrations and for making yummy little desserts.
…loved even by grown-ups!
Try Riccione Piadina's "Wonders" mini piadinas with friends, too, for a tasty appetizer paired with cold cuts and cheeses from your region!
Finish cooking it on the Testo Romagnolo
The piadina is perfect only if it is cooked using Testo Romagnolo. This is a fantastic pan that provides even, fast and precise baking.
Learn more
Romagna in every sense of the word
We are Riccione Piadina, where culture, flavor and history meet to create memories.
Learn more